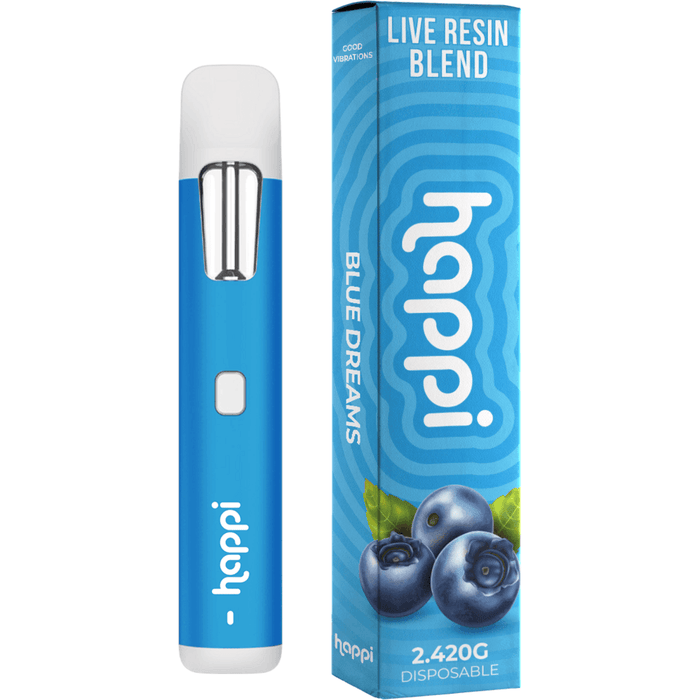 Blue Dreams - 2.4G Disposable Live Resin Blend
Sale
Sale
Original price
$59.99
-
Original price
$59.99
Introducing Blue Dreams - the 2.4G disposable Live Resin Blend that will take you straight to cloud 9! What's in it, you ask? Our Blue Dreams contains a potent yet gentle blend of Delta 8 and Live Resin to give you a happy high like no other.

2.4 grams Per Disposable
Pre-Heat Function
Made in the USA with Premium Cannabinoids
How to Use

Step 1: Charge for 1 hour before use.

Step 2: Click the button 2x to start the preheat function.

Step 3: Click 5x to turn on /off.
What is Live Resin Blend?

Live resin blend for THC is a cannabis extract that is made using freshly harvested cannabis plants that have been frozen instead of dried and cured.

This process helps to preserve the full spectrum of cannabinoids and terpenes present in the plant, resulting in a more flavorful and potent extract compared to traditional methods.
Government Warning

This product contains a total Delta-9 tetrahydrocannabinol concentration that does not exceed 0.3% on a dry weight basis. Do not use if you are pregnant, lactating, suffering from a medical condition (s). Consult a licensed healthcare professional before use. Keep out of the reach of children and animals. This product can impair your ability to drive a vehicle or operate machinery. Not intended for use by anyone under 21 years of age.

These statements have not been evaluated by the Food & Drug Administration. This product is not intended to diagnose, treat, cure or prevent any disease. This product is in compliance with section 10113 of the 2018 farm bill and contains <0.3% Delta 9 THC.