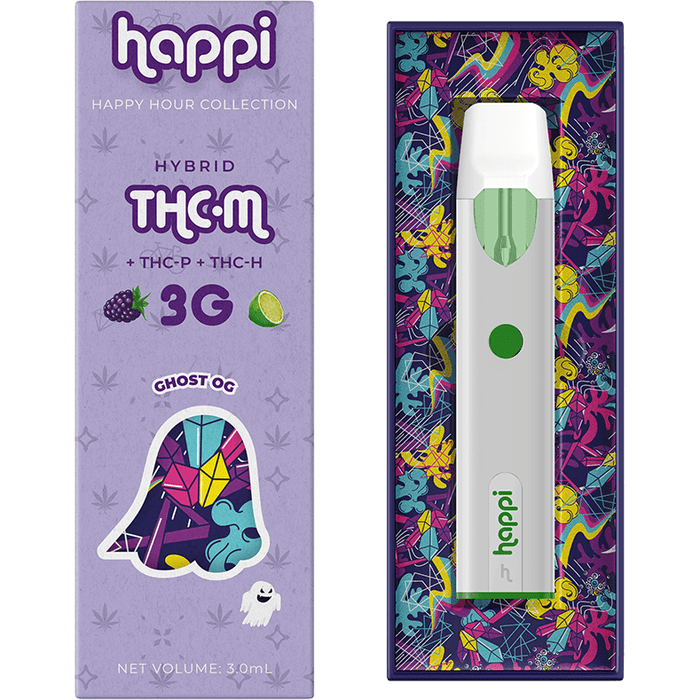 Ghost OG - 3G THC-M Disposable (Hybrid)
Original price
$29.99
-
Original price
$29.99
Happi Ghost OG 3ML Disposable THC-M Pen
How to Use

Step 1: Charge for 1 hour before use.

Step 2: Click the button 2x to start the preheat function.

Step 3: Click 5x to turn on /off.
What is THC-M?

THC-M, which stands for Tetrahydrocannabinol-Methylhexanamine, is a synthetic compound that combines two substances: THC, the component that makes provides a euphoric feeling from cannabis, and Methylhexanamine, a stimulant found in dietary supplements.

It's made to mimic the effects of THC while also giving an energizing boost from Methylhexanamine.
Government Warning

This product contains a total Delta-9 tetrahydrocannabinol concentration that does not exceed 0.3% on a dry weight basis. Do not use if you are pregnant, lactating, suffering from a medical condition (s). Consult a licensed healthcare professional before use. Keep out of the reach of children and animals. This product can impair your ability to drive a vehicle or operate machinery. Not intended for use by anyone under 21 years of age.

These statements have not been evaluated by the Food & Drug Administration. This product is not intended to diagnose, treat, cure or prevent any disease. This product is in compliance with section 10113 of the 2018 farm bill and contains <0.3% Delta 9 THC.