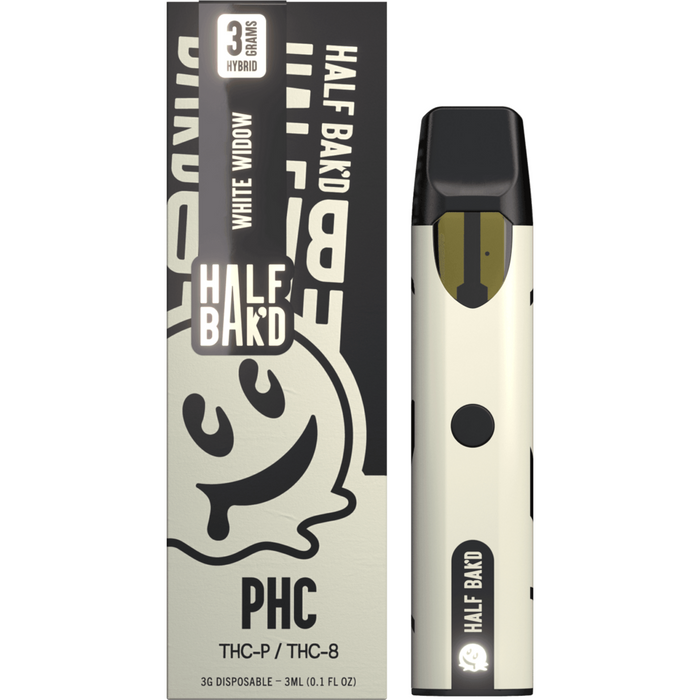 White Widow - 3G PHC Disposable (Hybrid)
Sold out
Original price
$39.99
-
Original price
$39.99
White Widow - PHC - Hybrid 
The 3 gram PHC Hemp disposable vape is a convenient and easy-to-use device designed for people looking for an alternative to traditional smoking.
This vape contains 3 grams of premium quality hemp extract, which is rich in cannabinoids and other beneficial compounds. The disposable design eliminates the need for refilling, comes in a sleek design, and is rechargeable making it ideal for people who are always on the go.
With its compact size and sleek design, this vape can easily fit in a pocket or purse, making it the perfect choice for people who want a quick and discreet way to enjoy the benefits of hemp. Whether you're looking to relax and unwind or go on a magical bicycle ride outdoors, the 3 gram PHC Hemp disposable vape has got you covered.
How to Use

Step 1: Charge for 1 hour before use.

Step 2: Click the button 2x to start the preheat function.

Step 3: Click 5x to turn off.
Shipping Information

Our standard processing time for orders is usually 1 business day.

Enjoy complimentary standard shipping on all purchases over $49, with an estimated delivery time of 3-5 business days.

In the event that we identify an item to be illegal in your state after you've placed an order, we maintain the right to cancel the order and provide a refund.
Government Warning

This product contains a total Delta-9 tetrahydrocannabinol concentration that does not exceed 0.3% on a dry weight basis. Do not use if you are pregnant, lactating, suffering from a medical condition (s). Consult a licensed healthcare professional before use. Keep out of the reach of children and animals. This product can impair your ability to drive a vehicle or operate machinery. Not intended for use by anyone under 21 years of age.

These statements have not been evaluated by the Food & Drug Administration. This product is not intended to diagnose, treat, cure or prevent any disease. This product is in compliance with section 10113 of the 2018 farm bill and contains <0.3% Delta 9 THC.